Today's Hearty Soup Choices
Bowl     6.99
    Cup   5.49     
New England Clam Chowder
Bowl    8.99
   Cup  7.49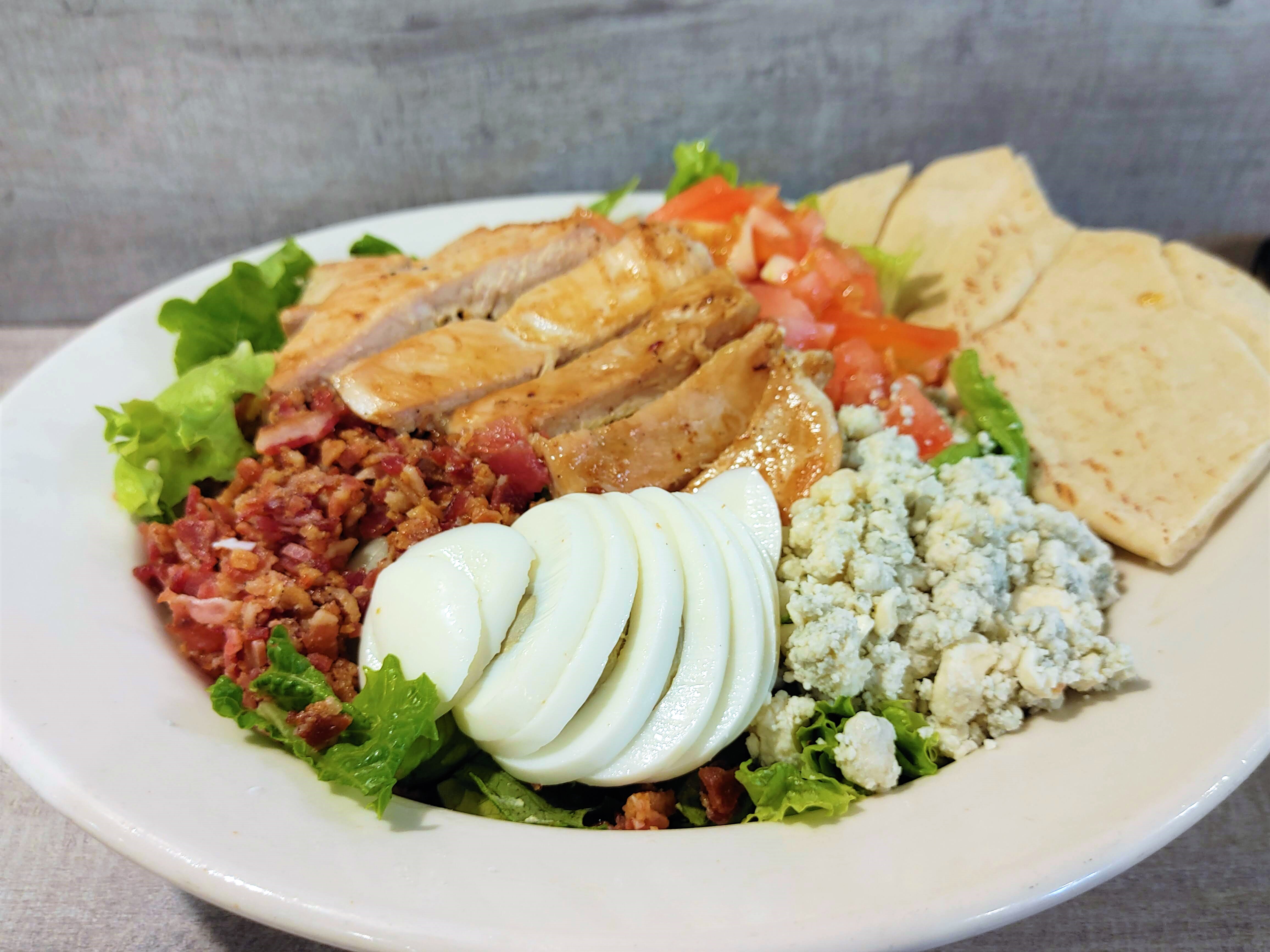 Served with Pita Wedges and Choice of Dressing
Parmesan Peppercorn • Italian • Blue Cheese • Greek • Thousand Island •
Ranch • Avocado Ranch • Caesar • Honey Dijon •
Apple Cider Vinaigrette • Oil & Balsamic Vinegar
COBB SALAD
Diced grilled chicken breast, tomatoes, bacon, hard-boiled
egg, and blue cheesecrumbles over crisp romaine lettuce
drizzled with Banners own avocado ranch dressing  14.49


BABY SPINACH SALAD
Mix of red onions, bacon, hard-boiled egg, and mushrooms
over a bed of fresh baby spinach, drizzled with
homemade warm bacon dressing  11.49
GREEK SALAD
Fresh feta cheese and Greek olives over a fresh garden salad,
served with our Greek dressing  10.99
CAESAR SALAD
Fresh parmesan cheese, croutons and fresh romaine
lettuce tossed with Caesar dressing  9.99


FRESH GARDEN SALAD
Hearty meal size salad with romaine lettuce, shredded
carrots, tomato, red onions, green peppers and
black olives with your choice of dressing  9.99


HOMEMADE SOUP AND SALAD COMBO

Cup of today's hearty soup and a fresh side salad 10.99


CHEF'S SPECIALTY QUICHE

The quiche of the day served with your choice of French fries,
soup of the day or side salad  9.99
SALAD TOPPERS
Grilled or Fried Chicken Breast julienne style   4.99
(Cajun, Buffalo, Teriyaki or BBQ)
Fried Chicken Breast   5.49
(Cajun, Buffalo, Teriyaki or BBQ)
Broiled Haddock Filet   6.99
*Charbroiled Angus Burger   5.99
House Roasted Beef   4.99
Sandwich Sensations
and Melts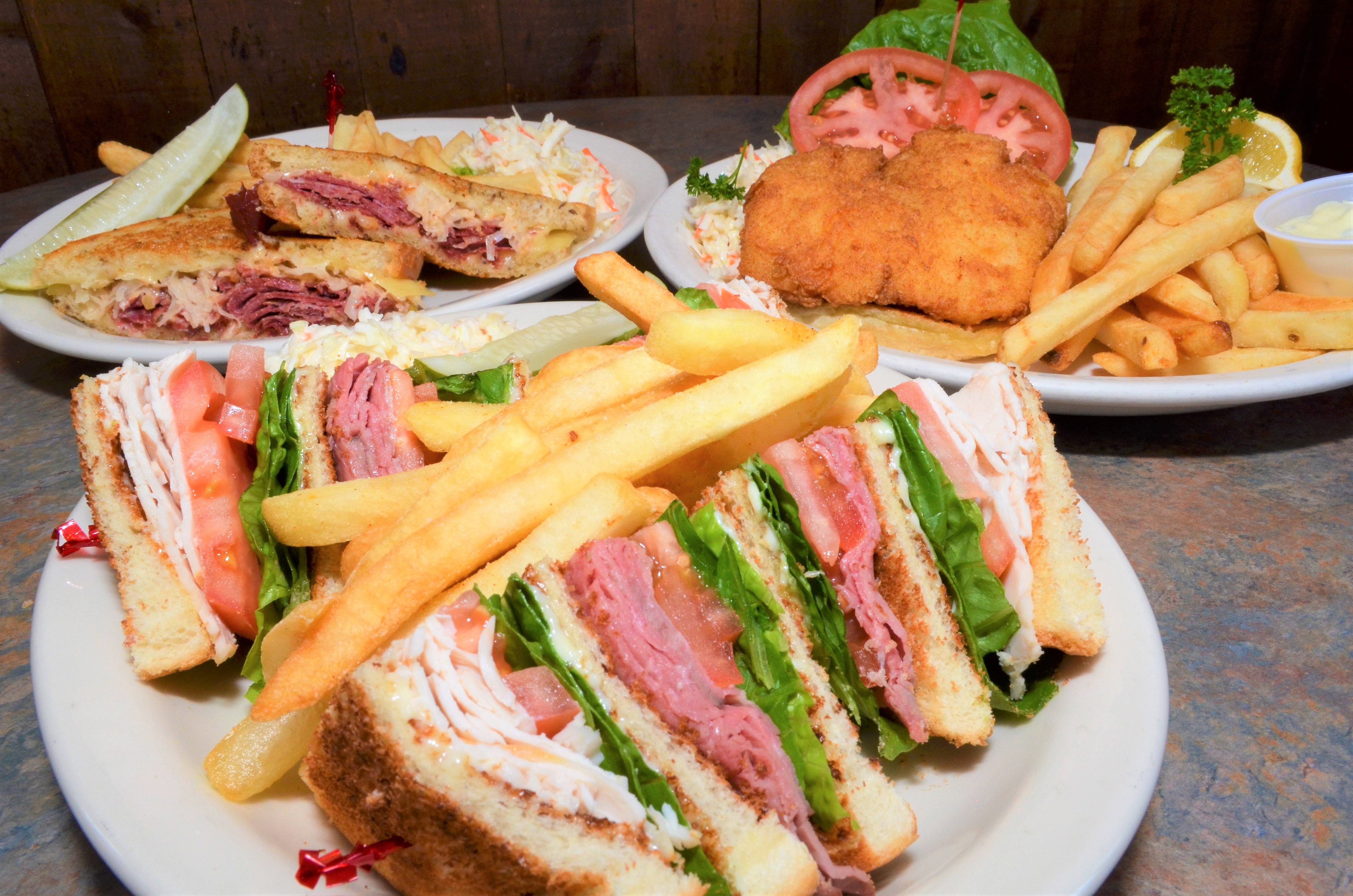 All served with golden french fries and homemade coleslaw,
garnished with a half sour pickle spear
*PHILLY STEAK
Thinly sliced steak, sauteed mushrooms, onions and peppers
with your choice of cheese on a French loaf  14.99

CHICKEN CAESAR WRAP
Grilled chicken breast tossed with Caesar dressing, fresh
parmesan cheese and romaine lettuce  13.99

HOUSE CLUB
Lean roast beef and oven roasted turkey breast stacked
club style with lettuce, tomatoes and mayo on
your choice of bread  14.99

MONTE CRISTO
Thinly sliced ham, oven roasted turkey breast and
Swiss cheese grilled between 2 slices of Texas style
French toast, served with syrup 14.99 - *Voted Best in NH*

CAPE COD
Golden brown fried haddock filet with coleslaw, thousand
island dressing and melted Swiss cheese on grilled
pumpernickel bread 15.49

FRIED HADDOCK
Haddock filet dipped in our special batter and fried to a
golden brown with lettuce and tomato on a lightly
grilled Kaiser roll  15.49

ROAST BEEF SPECIAL
Lean oven roasted beef with cheddar cheese and horseradish
mayo on grilled sour dough bread  14.49

TURKEY SPECIAL
Oven roasted turkey breast, bacon, lettuce, tomato
and mayo on your choice of bread  14.99

SAVORY CHICKEN
Choice of crispy panko breaded cutlet or grilled chicken
breast with lettuce and tomato on a grilled Kaiser roll
(Bbq, Cajun, Teriyaki or Buffalo available)  13.99

TUNA MELT
Solid white albacore tuna salad with sliced tomato and
melted Swiss cheese on your choice of grilled bread  13.99

VEGETARIAN WRAP
Medley of sauteed carrots, zucchini, onions, peppers,
mushrooms, spinach, and tomatoes smothered
with provolone cheese  13.99

CORNED BEEF RUEBEN
Slow cooked corned beef, sauerkraut and thousand
island dressing under melted Swiss cheese on
grilled light rye bread  14.49

PASTRAMI RACHEL
Lean pastrami, thousand island dressing and coleslaw
under melted Swiss cheese on a grilled pumpernickel  14.99

PASTRAMI BACON MELT
Grilled pastrami with bacon, tomato, and Dijon mustard
and melted provolone cheese on a grilled Kaiser roll  15.49
Served on your choice of white, whole wheat, light rye, marble rye,
pumpernickel, sour dough bread, French loaf, Kaiser roll or wrap,
with a half sour pickle spear.
Garnished with lettuce, tomato, or onion at no additional charge.

CARVED DELI CLASSICS   9.99
Oven Roasted Beef
Ham and Cheese
Slow Cooked Corned Beef
Roasted Turkey Breast
Lean Pastrami

Add cheese 2.49
Add bacon 3.69


CLASIC BLT
Bacon, lettuce and tomato with mayo, legendary!  9.99
With cheese   10.99
TUNA SALAD
Solid white albacore tuna salad, lightly seasoned   9.99
GRILLED CHEESE
Toasty on the outside, cheesy on the inside   7.99
Enjoy a fresh garden salad or a cup of our homemade soup of the day
for only $3.99 or our chowder for only $5.49 with any lunch platter.
FISH AND CHIPS
Haddock filets, lightly battered and fried to perfection.
Served with French fries, homemade coleslaw, a lemon wedge
and homemade tartar sauce. Also available broiled  17.99

CHICKEN TENDER PLATTER
Solid white meat chicken tenders in a crisp herbed breading
with Honey Dijon or BBQ sauce. Served wtih golden French
fries and homemade coleslaw  15.99

FRENCH DIP
Savory, oven roasted beef atop a warm French loaf, served
with Au Jus sauce and golden French fries  13.99

BANNERS MAC & CHEESE
Homemade with a special blend of cheeses backed in a
casserole under a cracker crumb topping. Served with
piping hot garlic bread  11.99
Fresh, never frozen, lean 6 oz Angus ground chuck burgers
made fresh daily and cooked to your liking.
Served with French fries and garnished with a half sour pickle spear.
Substitute Onion Rings for just   1.00
Make it Sizzle with Bacon   3.69

*BRUNCH BURGER 
Breakfast meets lunch with an over easy egg and bacon
, atop a burger, with your choice of cheese, served with lettuce and tomato on grilled Texas toast  15.99

*LONESTAR BURGER 
Delicious burger with cheddar cheese, topped with bacon
and an onion ring, drizzled with barbeque sauce
served on grilled Texas toast  15.99

*SOUTH WEST BURGER
Premium burger topped with fresh Pico De Gallo, avocado
slices, and sour cream all smothered under pepper jack
cheese on a grilled Foccia roll  15.99

*SIGNATURE BURGER CLUB 
Hearty club style burger, stacked high with bacon,
lettuce, tomato and mayo on toasted white bread  15.99

*FLORENTINE BURGER MELT
Lean burger smothered with sautéed spinach, mushrooms,
and Swiss Cheese on grilled sour dough bread  13.99

*MUSHROOM, ONION, SWISS BURGER 
Sizzling burger with fresh, sautéed mushrooms and onions
under a blanket of Swiss cheese served with lettuce and
tomato on a grilled Kaiser roll  13.99

*DOUBLE UP BURGER
Two of Banners sizzling burgers smothered with
American cheese and stacked high atop a grilled
Kaiser roll with lettuce & tomato  17.99

*SMOTHERED CHEESE BURGER
An All-American favorite – Banners burger with
choice of cheese served on a grilled Kaiser
roll with lettuce and tomato  12.99
CHICKEN TENDERS 11.99
SIDE MAC & CHEESE 7.99
GARLIC BREAD 4.99
FRESH SIDE SALAD 5.99
HOMEMADE COLESLAW 4.49
FRUIT BOWL 5.49

GOLDEN FRENCH FRIES
Basket 6.99   Small 4.99

BEER BATTERED ONION RINGS,
SWEET POTATO FRIES,
WAFFLE CUT FRIES, OR
CRISPY FRIED KETTLE CHIPS
Basket 7.49   Small 5.99

ASK YOUR SERVER ABOUT OUR SEASONAL SIDES!
SOFT DRINKS
Coke, Diet Coke, Sprite, Barq's Rootbeer,
Lemonade, Club Soda (free refills!) 2.99
REFRESHERS
Try one of four flavors 3.99
ARNOLD PALMER
Our fresh brewed iced tea perfectly blended
with classic lemonade 2.99
SHIRLEY TEMPLE OR ROY ROGERS
Sprite or Coke with cherry grenadine 3.49
BOTTLED WATER 2.99
ICED COFFEE (free refills) 3.29
FRESHLY BREWED ICED TEA  (Unsweetened, free refills) 3.29
FRESH GROUND HOT COFFEE  (free refills) 2.79
HOT TEA (free refills) 2.79
HERBAL TEA (9 Varieties) 2.99
HOT CHOCOLATE W/ WHIPPED CREAM 3.49
MILK BY THE GLASS
Regular   2.99   Small   2.49
CHOCOLATE MILK BY THE GLASS
Regular   3.99   Small   3.49
Featured Lite
Alcohol Beverages
BLOODY MARY
MIMOSA
SANGRIA
SCREWDRIVER
SWEET SUNRISE
MADRAS
WICKED LEMONADE
SHIRLEY TEMPTRESS

ASK ABOUT OUR SEASONAL BEVERAGES!
*Consuming raw or undercooked meats, poultry or eggs may increase your risk of foodborne illness, especially if you have certain medical conditions.